In the world of biking, Rockshox is a renowned name. They make premium quality parts within a reasonable price range.
However, determining the fork length for your bicycle can be tricky. This is because the manufacturers do not use the same standards or measurements.
While doing the calculation for your RockShox bike, you might come across a chart. You might think," What is RockShox axle to crown chart?"
Axle to crown chart refers to the method of specifying fork length in modern bicycles. RockShox has four crown sizes for which the axle to crown length varies. 28 mm crowns have the smallest length of 430-450mm. The 400mm crowns have the longest forks. The size is around 530-565mm.
Don't worry, even if this might appear to be perplexing at first. Spare us some time and your confusion will be cleared.
Let's hop right in.
What is Axle to Crown Length? 
For modern bicycles, the fork length is often specified from the axle to the crown. On the other hand, this might be different for bikes with suspension.
Unsagged and sagged fork lengths are the two options available when it comes to measuring this dimension on bicycles.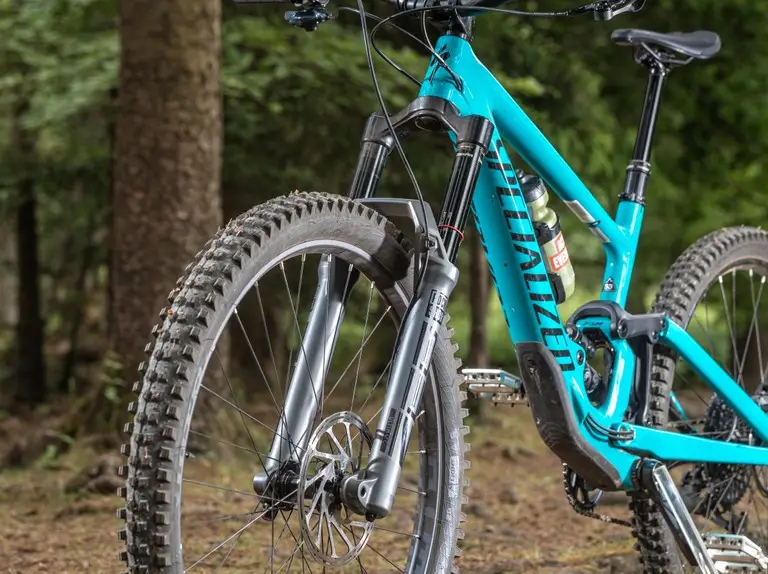 The length of the bike fork measured unsagged is the whole length of the fork. This is the length without any compression. And it does not take any external considerations into account.
Sagged length is the length of the fork after it has been reduced. In this case, the weight of the rider is taken into consideration.
Why Axle to Crown Length is Important? 
A change in fork length parameter affects the bike geometry directly. It changes several attributes of bike geometry.
This happens most when you are replacing a damaged fork or switching to suspension forks.
So that these changes can be evaluated. It is important to know the fork length that was used to figure out the initial geometry.
A longer rake on the fork will help the bike handle better. 
Similarly, When the forks are shorter, the trail is longer. This makes the steering more stable and heavier, especially in tight corners or bumpy spots.
How Does The Axle to Crown Change Your Bike Geometry? 
Most bike frames are built around a fork with a certain amount of travel. This gives the head tube a certain angle. Handling is affected by the angle of the head tube. 
Head angles for XC bikes (steep angles) are usually between 70 and 71 degrees. Also, head angles for Freeride and Down Hill bikes are usually between 69 and 67 degrees.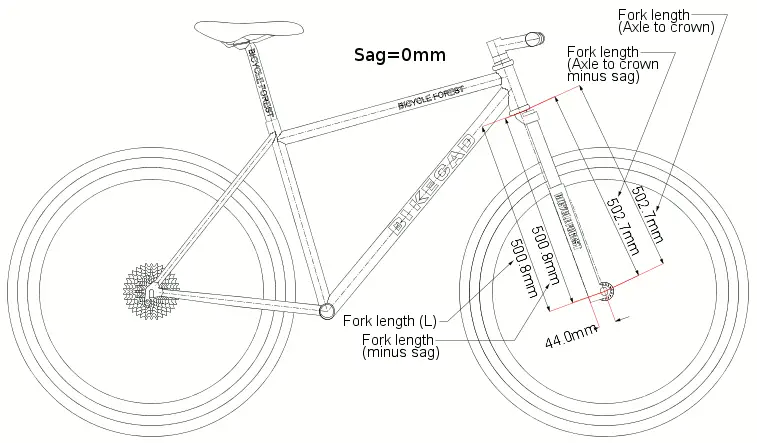 A steep head angle makes it easy to turn quickly. But it can be a little unstable when going downhill. On top of that, a slack head angle makes it harder to control. However, it's very stable going downhill and at high speeds. 
Another important factor to consider is the travel reduction. Because axle to crown measurements can hugely affect your RockShox fork travel.
So, yes, there are some crucial bike geometry aspects related to the ATC measurements.
Axle to Crown Chart For Rockshox Bikes
Determining axle to crown length can be a bit tricky. All the manufacturers don't follow any standardized charts. 
Hence, you might get confused about measuring, especially when it comes to RockShox bikes. It can be as confusing as choosing between RockShox Sid and Reba.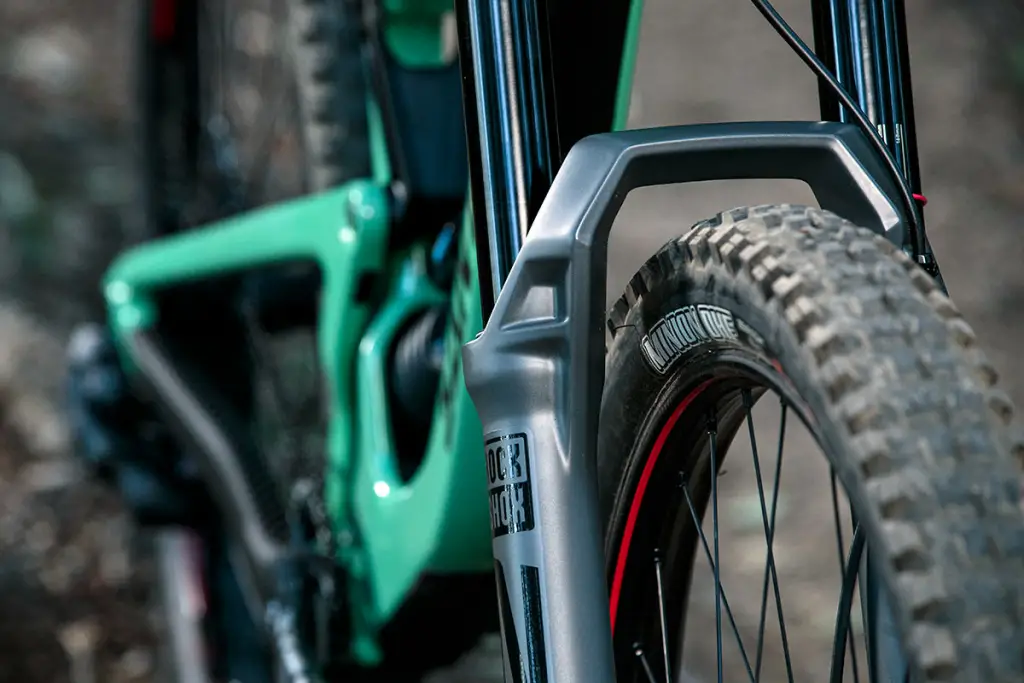 Even, head tube angles may vary 1-2 degrees. For example, you can expect ½ degree headtube change for every 10mm of crown length change.
For your ease, we have prepared an axle to crown chart for RockShox bikes. Let's have a look at it.
Fork Length 
28 mm 
32 mm 
35mm 
40mm 

Model
99-08 SID 63: 434mm99-08 SID 80: 451mm
Argyle 80: 471mmArgyle 100: 491mm
Domain 115: 500mmDomain 160: 545mmDomain 180: 565mm
Totem 135: 530mmTotem 180: 565mm
Model
SID 80: 453mmSID 90: 463SID 100: 473
Lyrik 115: 500mmLyrik 160: 545mm
Model
Dart 80: 454mmDart 100: 471mmDart 120: 501mm
Model 
Tora XC/SL/RACE 80: 450mmTora XC/SL/RACE 100: 470mm
Model 
Tora AM 80: 459mmTora AM 100: 479mmTora AM 120: 499mmTora AM 130: 509mm
Model 
Recon XC/SL/RACE 80: 451mmRecon XC/SL/RACE 100: 471mmRecon AM 80: 459mmRecon AM 100: 479mmRecon AM 120: 499mmRecon AM 130: 509mm
Model 
05-08 Reba 85: 458mm05-08 Reba 100: 473mm05-08 Reba 115: 488mmReba 80: 453mmReba 100: 473mmReba 120: 493mm
Model
06-08 Revelation 100: 478mm06-08 Revelation 115: 493mm06-08 Revelation 130: 508mmRevelation 140: 521mmRevelation 140 w/Maxle Lite: 518
Model
Pike 95: 473mmPike 140: 518mm
Model
Boxxer Ride 130: 494mmBoxxer & Ride 174: 544mmBoxxer 200: 568mm
All these models have an allowance of +/- 5 mm. 
From the chart, we can see that the crown length increases with fork size. The smallest fork length is for 28 mm models. This is ideal for bicycles with low-profile seats.
On the other hand, models with a diameter of 40 millimeters have the longest lengths.
Because of its increased length, the trail fork can accommodate more travel. This makes the bicycle easier to handle in certain situations.
You might be interested in learning how the length from the axle to the crown is measured. In this article, we have simplified it all for your convenience.
Measuring Axle to Crown Length:
It is recommended that measurements be made in millimeters; however, you can fairly accurately convert any units of measurement that you have.
Before you head on to measuring the fork length, it's imperative that you clean it up a bit. You don't want to be getting the wrong measurements due to a dirty fork, do you?
Just use Bicycle Chain & Drivetrain Cleaning Kit or Bike Wash to tidy it up. Then, get on with the calculation.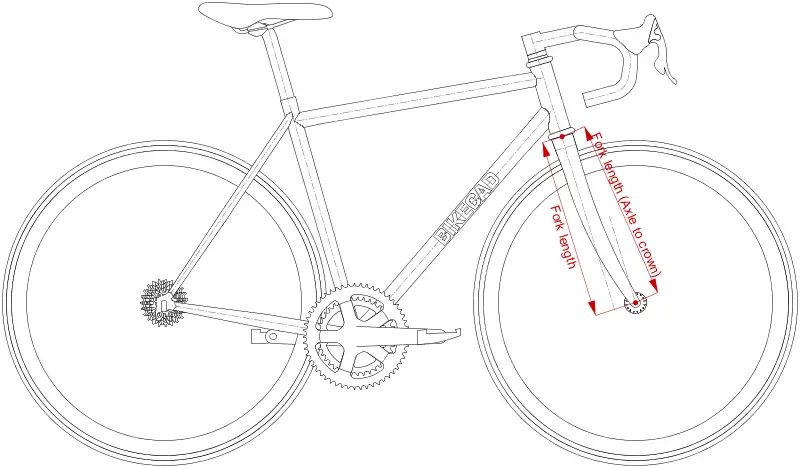 To begin, remove the front wheel and replace it with the quick release or thru-axle in the fork of the bicycle. 
Pulling on the lowers will allow you to check that they are fully stretched. Should they become obstructed, the accuracy of your measurement will suffer.
The center of the back of the axle is located behind the arch on the lowers. Measure from the top of the crown, which is the bottom of the Headset race. Continue to the center of the back of the axle.
You ought to be able to obtain an accurate measurement within a few millimeters using this method. Try to be as careful as possible. Because A change in fork length parameter affects the bike geometry directly.
When you're done with it, apply some good old Forkboost Lube so that it gets that boosted performance. 
Frequently Asked Questions (FAQs) 
How Much Air Do I Put in Rockshox?
The most pressure that should be allowed is 163 psi. The suggestions for how to bounce back are set from the full clockwise/full slow position. You may want to make more changes to your suspension based on how you ride. Also, as the terrain, you ride on, and the shape of your bike.
How Do I Know What Rockshox Fork I Have?
It's easy to find the serial number on your RockShox fork. On the back of the fork crown, a unique serial number is written. The part of your fork that goes into the head tube is called the fork crown. You can read it better if you turn your handlebars to the side.
Is 150 Mm Too Much Travel?
No, it is not. Your trail bike can also lose its feel if it has too much travel. Trail forks should ideally have 34mm stanchions that are 130-140mm long for a 29er. It can go possibly up to 150mm long for a 27.5 wheel size.
Conclusion
That will be all on the RockShox axle to crown chart. Hopefully, you have figured out now which model has which fork length. 
Make sure you grease your axle every 500 miles for optimal performance. Do let us know in the comments about your thoughts.
Have a great day.