No one would like the rattling sound while riding their bike with their loved one in the back. Come on! It just ruins the whole vibe.
That's why you'd need to choose the right cassette. But considering everything it's definitely not a walk in the park!
11 speed vs 12 speed, so, which one's the best? 
Well, 12 speed is more expensive than 11 speed. However, at the same time, 12 speed is also more durable compared to 11 speed. An 11-speed cassette might be lighter than 12 speed. But 12 speed has more gearing space than the other one. You can mix and match them together but it might not work well.
No, I'm not one of those people who will pinch in all the surprises in the trailer. That part needs more attention. 
That's why let's enjoy the plot twists in the detailed comparison sections. Shall we?
Quick Comparison 
If your bike chain is squealing in high gear then it's time to get a new cassette for your bike. This is why we're now going to briefly compare two ranges of cassettes. 
One is 11-speed and another is 12-speed. So let's take a look at all the features side-by-side.
Oh no! This isn't everything. I might be slightly a lazy person in real life. But when it comes to giving out the information I'm on my best speed (no pun intended).
Well, what I was talking about is an 11 speed vs 12 speed mountain bike cassette graph. Trust me your mind will be already clear as daylight if you observe the chart carefully. 
So take a look at it-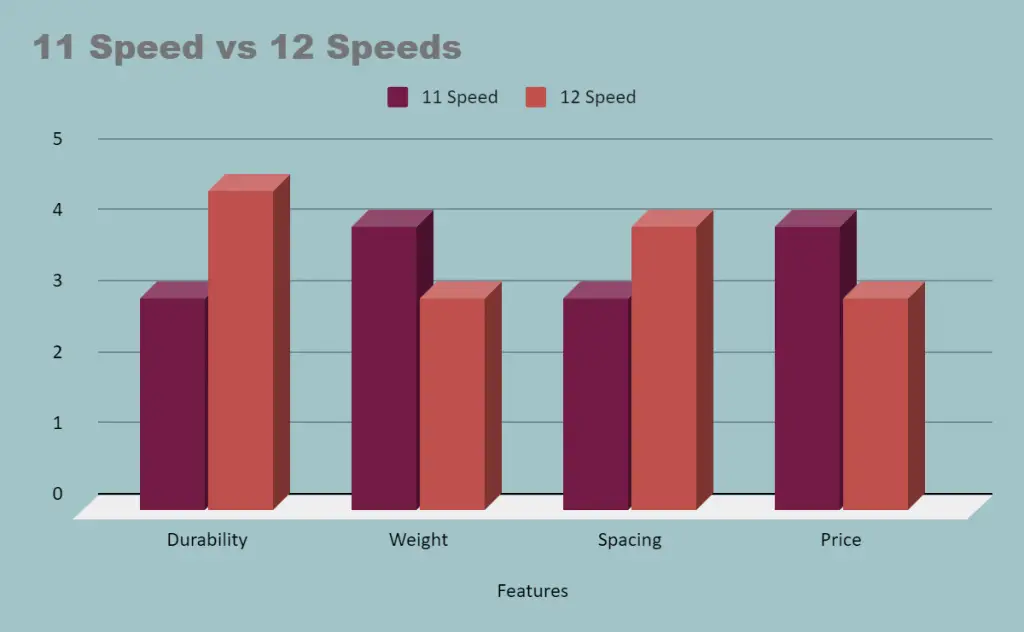 So, was I right or not? You can instantly make your decision by just looking at the graph above.
However, if you want to have a narrated conversation then let's jump on to the next section. 
I can assure you won't be disappointed after considering all the sides.    
11 Speed Vs 12 Speed: Where's the Catch? 
Be it all the top-notch coaster brake hubs or chain cassettes, variations are always there. And having a clear knowledge about all the boundaries can help you a lot!
How? You'll be able to choose quite an accurate product for yourself. So let's just rush to the next part now-
Gearing Range:
One of the major differences between these cassettes is gearing space. The same goes for the 10 speed vs 12 speed chain. 
So, first, let's find out what their respective ranges are. By the range I mean how much spread you're receiving with one chainring. 
Now, according to the stock drivetrains, SRAM's 11-speed 10-42 cassette used to provide a 420% range back in 2012. Now it's been surpassed with their 10-50 tooth 12-speed cassette. Because this one supplies 500% range now. 
On the other hand, SRAM's opponent Shimano's 12-speed comes with an extra tooth. So Shimano's 12 speed is offering a 510% range. 
Source: pinkbike.com
However, are using the following equipment?
If not then your range needs to attain from the cassette. Thus your cogs will keep getting bigger on one side and lesser on the other.  
So as the number of cogs has increased in 12 speed the width of the chain got narrowest. It's about 5.3mm at the rivet of 12 speed and about 5.5mm at the rivet of 11 speed. 
Are you already looking for a 12-speed chain link? No worries! I've got your back and listed two chain links that I had a good experience with. 
So, long story short, with a narrow chain you're getting a HUGE benefit! That is, the chain will not intervene with the neighboring cogs. So this will help you prevent your chain from making noise in the high gear. 
Winner: 12 speed 
Durability 
Well, normally, I know that narrow chains are relatively stronger than wide chains. And they scrape less when cross-chained by curtailing inward friction. 
On the other hand, I think single drive trains are less durable. Because they go through the increased and required cross-changing. 
So far I've actually compared the 12 speed vs 11 speed cassette chain. I think you can already tell which one would last longer than the other. 
But as usual, like an excited birdie, I'm gonna say it anyway. Yes! It's the 12 speed. This one, according to me, got the upper hand because they are more durable. 
However, if you want to make your 12-speed cassette you really should get an air hose blast. It'll save the cassette from getting rusty.
So, some of the best and most reasonable air hose blasts I picked spending hours are:
Now, your 12-speed cassette is more durable than ever! 
Winner: 12 speed
Compatibility 
With all the reviews and everything, one thing I know for sure is that you guys were dying for this section. Aren't you? 
Well, actually it was me! Nevermind!
So what will this section answer? This section is all about 11 speed to 12 speed compatibility. 
To test this thing, one day, I put in an 11-speed chain on a 12-speed drivetrain. I wouldn't lie! It actually worked pretty well. But I wouldn't say it was bang-on.
Because there isn't much difference in the chain width. It'd be around 0.2mm difference. However, it wasn't perfect due to the increased noise than usual. 
So, if you can tolerate the noise, this can come to your aid during an emergency.
Now, what if we try the other way? Can you install a 12-speed chain on an 11-speed drivetrain?
It's a yes and no answer, unfortunately! I already tried it and I wasn't happy again. I felt it was so-so but thankfully with less noise.
Nevertheless, there's good news! If you want you can mix and pair Shimano and SRAM parts but at the same speeds. You can also experiment with cranks, chains, chainrings, and cassettes.
Sometimes I use my 32t SRAM crankset with my Shimano 12-speed chain. And it's not totally terrible 
Warning: All the different combinations might not go 100% smooth like the original ecosystem. 
Winner: Tie
Price:
Let's face it, the price section always matters the most. Because the product should be worth your money. 
And exactly at this point, 12 speed falls behind 11 speed. Although 12 speed offers a good ride, it's more expensive than 11 speed. 
But I can actually justify the expense of 12 speed. Brands are now coming with more precise cogs, derailleurs. Also, 12 speed is being manufactured with far better materials than 11 speed. 
Moreover, 12 speed has tighter leniency compared to 11 speed. Now If you want a mathematical demonstration I'm giving you one!
Apparently, in 2011 you'd need to spend around $1500 for an XTR two-chainring drivetrain. However, the same thing is around $1700 at present. 
On the other hand, last year, you could get Shimano's 12-speed XTR drivetrain for about $1,500. So the recent XTR drivetrain is basically cheaper than the one that arrived before it.
That's why when it comes to price I don't put one ahead of the other. Because it totally depends on an individual's choice. 
One thing I can assure you is that if you want to upgrade to 12 speed it's gonna be worth it.
Winner: Tie
So, Which One Should Be Your Last Call?
Well, a word to the wise is sufficient! So you can already tell from all the discussions which one gives the best service. Surprise! It's the 12 speed.
So if you're done going through everything let's answer some common questions you might have.
Frequently Asked Questions (FAQs)
Is it possible to use a 12-speed shifter on an 11-speed cassette?
Yes, you can use a 12-speed shifter on an 11-speed cassette. But your ride's not gonna be smooth at all. It's better to keep the original layout intact.
Do I require a boost spacing for 12 speed?
Yes, if you're using 12 speed you'd need a boost spaced chainring. Because the clearances are too tiny between the chain and cassette.
Last Words
So, now you can choose your winner when it comes to 11 speed vs 12 speed. 
If you got yourself a bike with a modern layout and brakes, 12 speed will be a perfect choice. Other than that 11 speed also works just fine.
That's all for today. Have a fun ride!